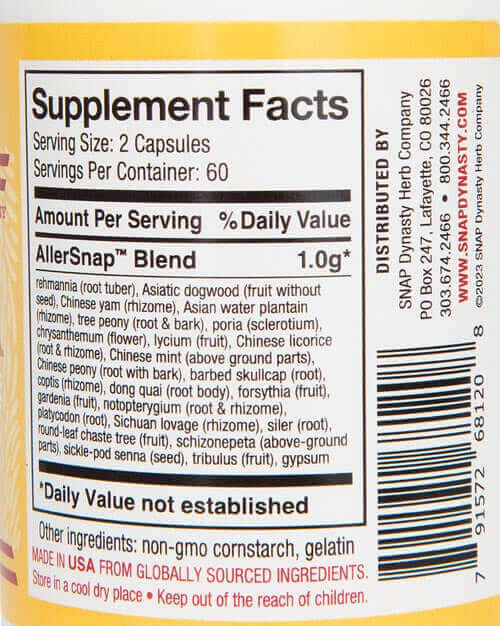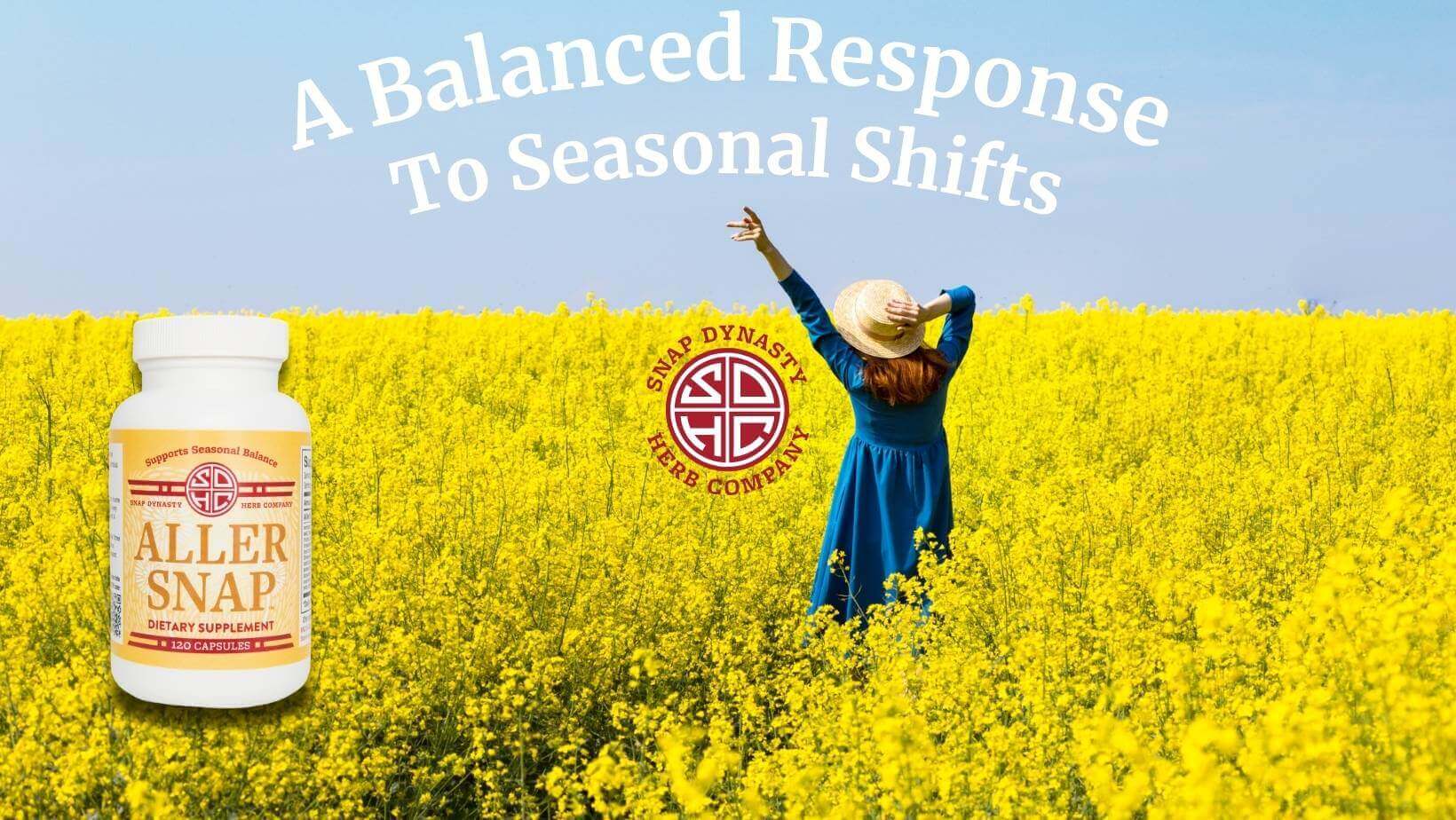 Aller Snap
Sale price

$ 36.99
Regular price
(/)
---
Supports Seasonal Balance
Aller Snap supports a healthy antihistamine response to occasional environmental stimulus without overreaction. Aller Snap is a comprehensive formula that allows the body to process seasonal shifts while supporting a balanced immune response and Chinese liver system. Aller Snap has no contraindications.
Directions
Capsules
For Adults: Take two capsules three times per day.  In some circumstances take two capsules as frequently as every 30 minutes for additional support.  Do not exceed 24 capsules in 24 hours.
For Children 12 and under: Take one capsule three times per day.  In some circumstances take one capsules as frequently as every 30 minutes for additional support.  Do not exceed 8 capsules in 24 hours.
Ingredients
Rehmannia (cured root tuber), Asiatic dogwood (fruit without seed), Chinese yam (rhizome), Asian water plaintain (rhizome),Tree peony (root and bark), Poria (sclerotium), Chrysanthemum (flower), Lycium (fruit), Chinese licorice (root and rhizome), Chinese mint (aboveground parts), Chinese peony (root with bark), Chinese scullcap (root), Coptis (rhizome), Dong quai (root body), Forsythia (fruit), Gardenia (fruit), Gypsum (powder), Notopterygium (root and rhizome), Platycodon (root), Sichuan lovage (rhizome), Siler (root), Round-leaf chaste tree (fruit), Schizonepeta (aboveground parts), Sickle-pod senna (seed), Tribulus (fruit)
Other ingredients: non-GMO cornstarch
Our capsules are made from non-GMO, grass-fed bovine gelatin.
We batch-test for pesticides, microbes, and heavy metals.
***The Food and Drug Administration has not evaluated these statements. This product is not intended to diagnose, treat, cure, or prevent any disease.
Aller Snap
Sale price

$ 36.99
Regular price
Choose options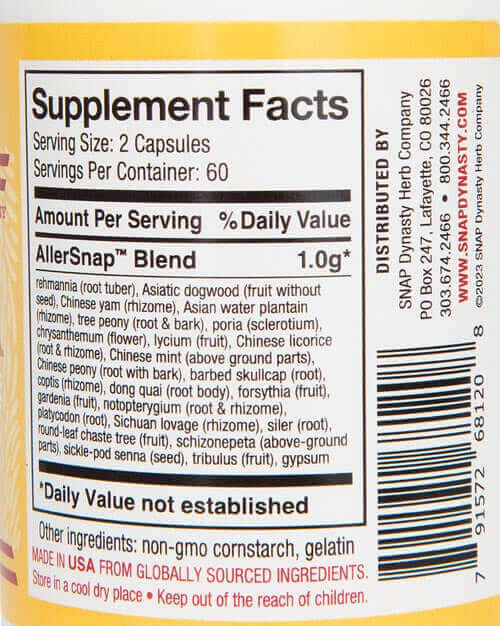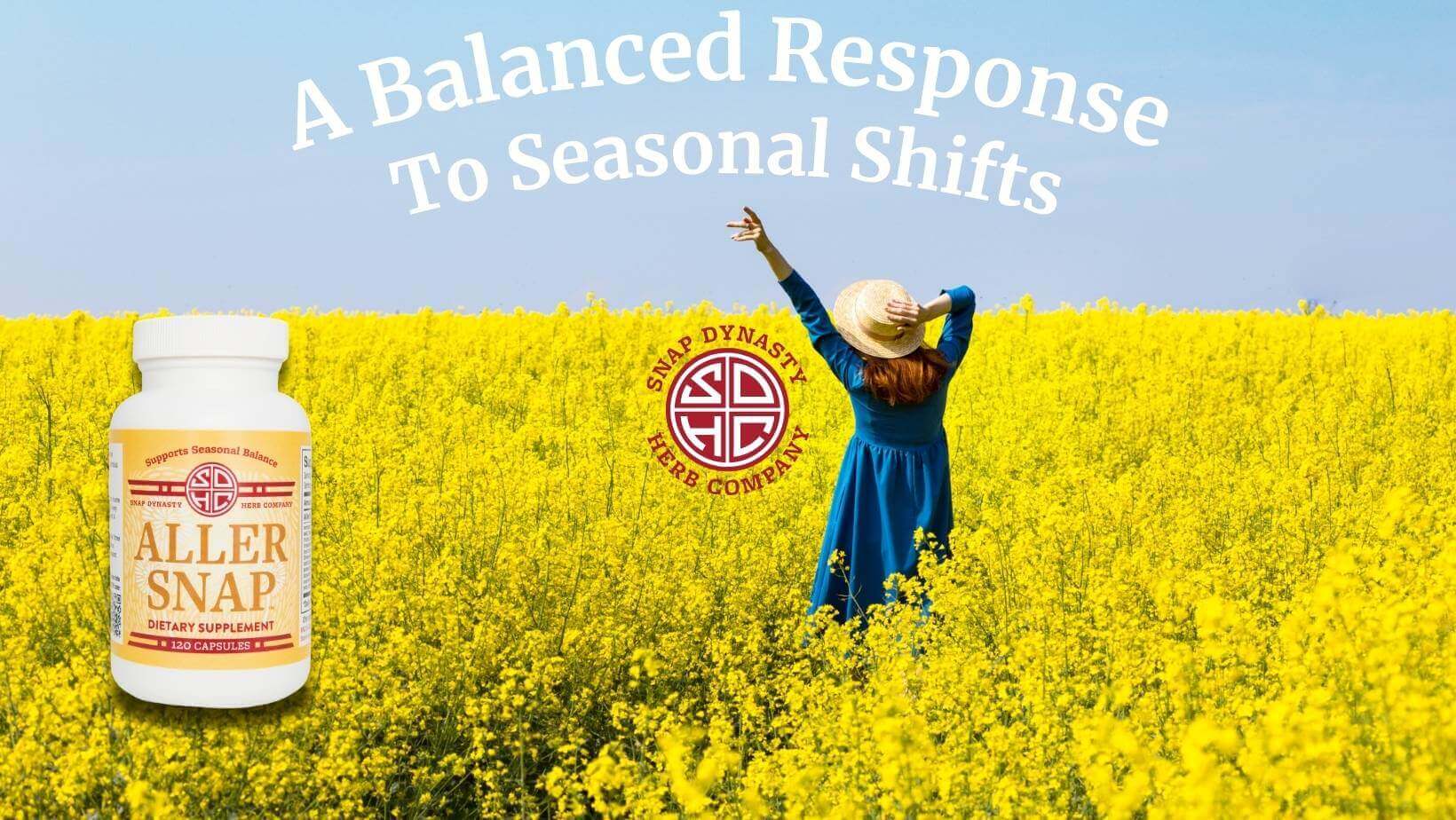 Great Product, Even Better Customer Serivce.
I use Allersnap as part of my allergy treatment, and notice a difference when I forget to take it. There was a problem with my latest order, Jennifer Pillari was very helpful in getting things figured out.
This is an effective remedy for seasonal allergies. Thank you for this formula.
Effectiveness
I find taking the allergy supplements are very effective in controlling my allergies.
This Actually Eased Allergy Symptoms
I have had seasonal and environmental allergies for many years. I take an over the counter medication to alleviate my symptoms. The past few weeks my symptoms have been worse than usual, even after my otc medication. I thought I would give Aller Snap a try because I really trust this company. As usual, it did not disappoint. I took two capsules in the morning and two in the evening. I'm back to being able to breathe again. Not sure how this product would work alone, but it's going to be my go-to for a supplemental allergy relief.
Allergy Meds
This supplement lessens my allergies.